HOW TO MAKE YOUR OWN FOOTBALL PLACEKICKING HOLDER FOR ABOUT 5 BUCKS
National Kicking Service Football Kicking Camps / Punting Camps / Long Snapping Camps
Make-it-yourself football holder used by many National Kicking Service kickers
There are a number of football holders on the market. They can cost up to $40. Some work well and some, not so much. Here are instructions for the make-it-yourself football holder used by many National Kicking Service kickers.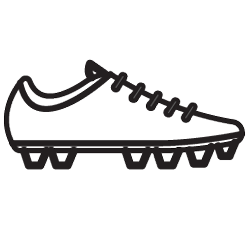 MATERIALS NEEDED
Two 24 inch long 3/4 inch diameter PVC plastic pipe sections
One 12 inch long 1/2 inch diameter double threaded PVC pipe (sometimes called "riser" or "nipple")
One 90 degree 3/4 inch diameter elbow with a 1/2 inch threaded side outlet
ASSEMBLY
Insert the two 24 inch long PVC plastic pipe sections into the elbow.
Screw the 12 inch double threaded PVC piece into the side of the 90 degree elbow. The tip of the ball will be held by the end of this piece.
That's it!
The holder can be assembled and disassembled easily. Most kickers don't bother to unscrew the 12 inch double threaded piece. Occasionally the 12 inch double threaded piece will break off. No big deal. It's cheaply replaced.
These are plumbing supply materials found in most hardware stores and always available in large home improvement stores such as Lowe's and Home Depot. At the large home improvement stores the 3/4 inch PVC pipe may only come in 10 foot sections. Just cut them down to the specified length and make several holders.
Nationwide Summer Kicking Camps, Punting Camps, and Long Snapping Camps
To unlock your full potential in kicking, punting, and long snapping, follow the NKS Website Game Plan!
Interested in summer camp?
LEARN MORE
REGISTER NOW