STAFF AND CAMP COUNSELORS
The NKS staff members are all dedicated coaches or former pros throughly trained in scientifically researched kicking techniques.Their dedication and love of kicking, punting, or long snapping make them excellent role models for our campers. Our college camp counselors are all highly experienced NKS program veterans with maturity beyond their years. Players in all age groups receive the very best in personal instruction.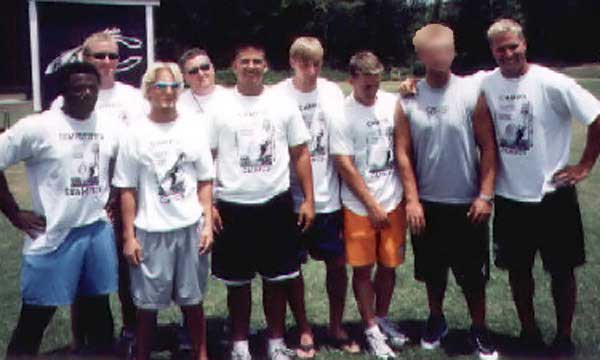 NKS Staff History
1st row (left to right)
Marcellus Rolle (Tufts), Jared Davis (Temple), Xavier Beitia (Florida State),
Philip Yost (Auburn), Jason Hunter (Florida), Dave Sanger (UMass)
2nd row (left to right)
Austin Herbert (N.C. State), Coach Ken Hensley (Boone HS, Orlando)
In Appreciation…

Mort Nash was the Senior Marketing Consultant for National Kicking Service and brought his wealth of marketing experience and expertise to the program for many years. A native New Yorker and World War II veteran, his impressive resume included Regional Sales Manager at Litton Industries and U.S. Sales Manager, Commercial Microwave Division, for Sharp. Mort's insight enabled NKS to reach thousands of coaches and players in the USA and around the world. He touched all who knew him with his warmth, compassion, genuine concern for others, and good natured sense of humor.
Nationwide Summer Kicking Camps, Punting Camps, and Long Snapping Camps
To unlock your full potential in kicking, punting, and long snapping, follow the NKS Website Game Plan!
Interested in summer camp?
LEARN MORE
REGISTER NOW