National Kicking Service Basic Summer Camp/Academy Schedule
NKS is one of footballs most respected authorities on special teams skills. We have helped thousands placekickers, punters, and long snappers at every level.
NKS Basic Summer Camp/Academy Schedule
** With the exception of check-in and closing times, the exact schedule may vary from location to location. The NKS Staff will inform all camp/academy participants of any changes.
Day One
1-3 pm Check-in
3:10 pm Orientation Meeting
** Bring all equipment
3:45-5:15 pm Field Session
5:30 pm Dinner
7:00-8:45 pm Field Session
9:30-10:45 pm Meetings
11:00 pm Snacks
11:15 pm Room Check
11:30 pm Lights Out
Day Two
7:30 am Wake Up Call
8:00 am Breakfast
9:00-11:15 am Field Session
11:30 am Lunch
1-2 pm Meetings
3:00-3:30 pm Extra Help on Field
3:30-5:15 pm Field Session
5:30 pm Dinner
7:00-8:45 pm Field Session
9:30-10:45 pm Meetings
11:00 pm Snacks
11:15 pm Room Check
11:30 pm Lights Out
Day Three
7:30 am Wake Up Call
8:00 am Breakfast
9:00-11:15 am Field Session
11:30 am Lunch
12:15-1:15 pm College Recruiting Meeting for players & parents
1:15-1:45 pm Extra Help on Field
1:45-3:30 pm Field Session *Competitions*
3:30-4:00 pm Room Check Out: Shower, clean rooms, turn in keys by 4 pm
4:10-4:45 pm Camp Closing Meeting: staff contacts, year round support info, handouts, awards.
IMPORTANT REMINDERS:
1. Hazing is not tolerated. Report any hazing to the NKS staff immediately.
2. Report any injury or illness to the NKS Staff right away.
3. For overnight campers, there is no early check out during field sessions. Early check out arrangements should be made with NKS Staff prior to the start of camp.
4. We appreciate your understanding that no video or audio recording with any device is permitted at any NKS camp activity. Also, no pictures or videos inside residence halls.
5. Don't hesitate to speak with NKS Staff about any problems or difficulties.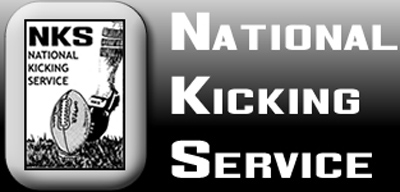 Camp Description
National Kicking Service kicking camps are focused and comprehensive in their scope providing the absolute best placekicking, punting, and long snapping instruction available today. It's one thing to grasp a mechanical principle, and another to have the ability to impart that knowledge to another in the most effective way. NKS staff are thoroughly trained in teaching methodology, motor learning, and sports psychology. Individuals learn in different ways and at their own rate, utilizing varying degrees of visual, kinesthetic, and auditory feedback. NKS staff are adept at personalizing their approach to each specialist they work with.
NKS camps are a complete education in the special teams skills. Our goal is to instill in each and every player the proven biomechanical techniques, training principles, focus, and mind set necessary to build confidence and perform in game situations. Individual attention is one of the NKS cornerstones whether you are a beginner, high school standout, or college star. The camp environment promotes an atmosphere where participants will feel comfortable interacting with coaches and players alike.
More and more we hear professional athletes speak about having fun and how it enhances their performance. We've always known that at NKS and that element is incorporated into everything we do. The camps are a blast. Most players develop lasting friendships within their skill. Remember, NKS camps are three days and two nights. The benefits of an overnight camp are enormous. If you can't stay overnight, you'll still benefit from the extended camp schedule.
CAMP INCLUDES:
College Placement through the NKS Collegiate Recruiting Network
Seven full field training sessions
A minimum of two individual video analysis meetings
Extra individual help sessions with on the spot video analysis
Classroom meetings on all physical and mental training aspects for each individual specialty
Complete accessibility to all staff members on and off the field
Classroom meeting on sports biomechanics
College recruiting for specialists meeting (optional)
Instructional handouts and charts for all skills
Competitions and awards within each age group
NKS camp T-shirt
Camp photograph
Great training tables- all you can eat!
Evening snacks
Pool or beach (selected sites)
All players automatically retain NKS as their personal consultant. That means Coach Muriaty and all of the staff are available anytime whether it be a question on technique, video analysis over the phone, recruiting advice, support, etc.
There are NKS Staff located near each campsite for follow up instruction or help of any kind.
Since 1988 one of the most respected authorities on special teams skills.
NKS is a full time operation. We are always there for you with programs throughout the year designed to take your skill to the next level and showcase your talent.
Sports Biomechanics – Ground breaking scientific techniques ascertained through exhaustive research in the biomechanics laboratory.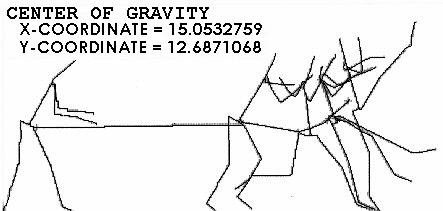 Biomechanics Printout
Showing Center of Gravity and Leg Extension
Professional NKS Staff Members are all dedicated coaches, current or former pros, thoroughly trained in the NKS methodology of kicking, punting, and long snapping. Their passion and love for the sport of football make them superb role models. Our College Camp Counselors are all highly experienced NKS program veterans with maturity beyond their years.
NKS Camps use no part time "celebrity" or guest instructors who may appear only for pictures or autographs. Our NFL staff fully participate for the entire camp and are always accessible.
Individual attention is always # 1 at NKS. Our staff to camper ratio policy is never to exceed 1:7.
NKS service is all about you. All players attending an NKS program automatically retain Coach Muriaty and staff as their own personal consultant throughout the year. Contact us anytime for assistance. You'll never get lost in the numbers with us!
NKS Camps are never combined with another skill or camp operation.
Sport Psychology – NKS employs the very latest breakthroughs in the field of human potential on the field and in the classroom.
Superior Facilities – NKS program sites are always "top notch" with some utilized by NFL teams.
Our rates are always reasonable – because we respect you as a client.
Parents and coaches attend field sessions and meetings FREE.
College Referral Program through NKS's vast nationwide network.
NKS Camps are a blast! This enthusiasm leads to enhanced performance.
Nationwide Summer Kicking Camps, Punting Camps, and Long Snapping Camps
To unlock your full potential in kicking, punting, and long snapping, follow the NKS Website Game Plan!
Interested in summer camp?
LEARN MORE
REGISTER NOW