Camp Check-in Location
Follow campus signs to check in
** With the exception of check-in and closing times, the exact schedule may vary from camp to camp. The NKS Staff will inform all camp participants of any changes.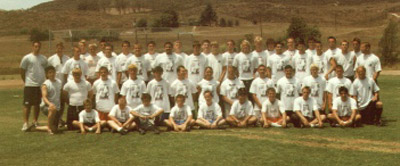 Located in historic Thousand Oaks, California, only 40 miles up the coast from Los Angeles and 56 miles from Santa Barbara, California Lutheran University is a picturesque setting in the Conejo Valley at the foot of the Santa Monica Mountains. It is, without doubt, the premier campsite in California and such an ideal facility for a football camp that the Dallas Cowboys conducted their summer training camp at CLU for 28 years under legendary Coach Tom Landry.
The 225 acre California Lutheran University campus has 41 buildings, numerous fields, two stadiums, two pools, tennis courts, botanical gardens, and undeveloped chaparral hillsides where its common to see horseback riders. The 96,000 square foot Gilbert Sports and fitness center is state of the art. There's also the 50 meter Samuelson Aquatic Center and the 4,800 square foot Community Pool. California Lutheran University has been the official training site for the U.S. Olympic Men's Water Polo Team in 2008 and 2012 and has hosted many high profile summer camps including the Magic Johnson Basketball Camp and the UCLA Bruins football summer training camp.
Players first arriving at the NKS Kicking, Punting, and Long Snapping Camp at CLU often make remarks about the campus setting such as…"almost surreal"…"perfect"…"out of a movie"…, etc. The residence halls are more than comfortable with each suite containing its own bathroom and living area.
California Lutheran University Athletics
Robert Shoup led the Kingsmen football team to 13 NAIA District III Championships and five playoffs in his 17 years as coach. He was named NAIA Coach of the Year in 1971 the same year they won the NAIA National Championship. CLU is now an NCAA member Division 3 level playing as part of the Southern California Intercollegiate Athletic Conference. In all, there are ten men's teams and ten women's teams.
THOUSAND OAKS AREA
While it's hard to say that Thousand Oaks is a well kept secret, it isn't widely known that a good number of professional athletes and movie stars choose to call the small city their home.
The Tiger Woods Invitational Golf Tournament has been held yearly at Thousand Oaks Country Club.
The Ronald Regan Presidential Library, in Simi Valley is only nine miles from campus.
Paradise Cove in Malibu, a popular site for shooting movies, TV shows, and commercials is 19 miles away. It's the beach where "The Rockford Files" was filmed.
"Corriganville Movie Ranch" was a location for hundreds of western TV shows and movies such as Star Trek, The Lone Ranger, The Adventures of Rin Tin Tin, Tarzan, Jungle Jim, as well as Creature from the Black Lagoon, Robin Hood, and Fort Apache. The property is now a regional park owned by the City of Simi Valley. The park is 23 miles from CLU and posted with signs about the parks past.
The area abounds with natural beauty with plentiful parks and nearby beaches.
Take a ride on N17 over the Santa Monica Mountains to the beaches in Malibu. The Pacific Ocean view from the top of the mountains is unforgettable.
The famous boating, dining and shopping of Ventura, Oxnard, and Santa Barbara are only a short drive away.
DISTANCES TO…
California Lutheran University 60 West Olsen Road Thousand Oaks, California 91360
FROM…
Los Angeles… 40 miles Santa Barbara… 56 miles Malibu Coast… 17 miles Oxnard, California… 22 miles Pasadena, California… 43 miles Long Beach, California… 59 miles Newport Beach, California… 82 miles Riverside, California… 93 miles San Bernardino, California… 95 miles Bakersfield, California… 122 miles Oceanside, California… 125 miles Barstow, California… 148 miles San Luis Obispo, California… 150 miles San Diego, California… 163 miles Fresno, California… 229 miles San Francisco, California… 392 miles Las Vegas, Nevada… 310 miles Laughlin, Nevada… 313 miles Reno, Nevada… 528 miles Phoenix, Arizona… 413 miles
How do I register for camp?
You may call or email Coach Muriaty for a brochure/application or sign up online. For online registration, please follow the instructions below.
Our online registration requires approval by a Parent or a Legal Guardian by typing their name in the text box at the end of the online registration page. Registering online gives you the option of paying for a camp with a credit card through Stripe. CLICK HERE to view camp rates and additional information. If you choose to pay by check, please make checks payable to National Kicking Service and mail your payment to:
Gene Muriaty
National Kicking Service
P.O. Box 135
Marshfield Hills, MA 02051
"I have had the opportunity to work and train with NKS Director Gene Muriaty. He is absolutely one of the most knowledgeable and passionate place kicking and punting instructors in the USA!"

– Brian Hansen, former NFL All Pro punter
"Jim Power brings his years of professional experience to help young kickers improve their ability. I recommend attending his camp."

– John Robinson, former coach of Southern Cal and NFL Rams on NKS West Coast Director, Jim Power
"Gene Muriaty is an exceptional kicking and punting coach. I highly recommend him and his program to anyone interested in improving their skill."

– Mike Horan, former NFL All Pro punter on Gene Muriaty, NKS Director
"Jim Power has the ability to translate his kicking experience into the teaching of mechanics for young kickers. He understands how to avoid the flaws and pitfalls that prevent a kicker from being able to take his game from level to level to develop to maximum potential."

– Steve Ortmayer, long time NFL special teams coach on NKS West Coast Director Jim Power