Dates
Open, 2023
June 23rd – 25th
(Fri – Sun)
Camp Check-in Location
Follow on campus signs.
** With the exception of check-in and closing times, the exact schedule may vary from camp to camp. The NKS Staff will inform all camp participants of any changes.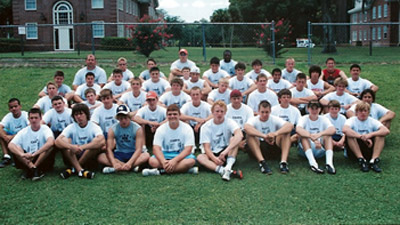 Stetson University is really the premier campsite in Central Florida.
Located in DeLand, only 35 miles from Orlando and 23 miles from Daytona Beach, Stetson offers Division 1 athletic facilities on its 175 acre picturesque campus. The Edmunds Center field house, Hollis Center, the practice and game fields are all top notch. In August 2012 Stetson opened the state of the art Athletic Training Center together with two new football practice fields and a renovated Spec Martin Stadium. In 2013 Stetson played its first intercollegiate football game since 1957 under the leadership of Head Coach Roger Hughes.
The campus itself has been designated by the National Register of Historic Places as the "Stetson University Historic Campus District".
It is beautifully landscaped with abundant Palm trees, Live Oaks, etc. A number of buildings date back to the 1880's. Stetson has been the location for a number of motion pictures, most notably "The Water Boy" starring Adam Sandler. Other movies include "From Earth to the Moon", and "First of May". The University has also has hosted training camps for a number of Florida professional teams.
Central Florida/Orlando
There isn't any place in the world where you'll find more things to do than Central Florida. Take in the world class theme parks in Orlando, visit the Kennedy Space Center, or go back in time and take a stroll on the sidewalk in Downtown DeLand, a pontoon boat cruise on the St. Johns River (Manatees are everywhere at the right time of year), or spend the day at the beach. Here's a very brief list with some of Central Florida's attractions.
CENTRAL FLORIDA ATTRACTIONS
Daytona Beach Daytona International Speedway Skydive DeLand DeLand Naval Air Station Museum Downtown DeLand St. Johns River St. Johns River Cruises Blue Spring State Park Hontoon Island State Park Walt Disney Theme Parks Universal Studios Seas World Kennedy Space Center
DISTANCES TO…
Stetson University
421 North Woodland Blvd.
DeLand, Florida 32723
FROM…
Orlando, Florida… 35 miles
Daytona Beach… 23 miles
Ocala, Florida… 61 miles
Titusville, Florida… 52 miles
Melbourne, Florida… 95 miles
Gainesville, Florida… 96 miles
Jacksonville, Florida… 108 miles
Tampa, Florida… 124 miles
Fort Myers, Florida… 195 miles
Tallahassee, Florida… 240 miles
Miami, Florida… 262 miles
How do I register for camp?
You may call or email Coach Muriaty for a brochure/application or sign up online. For online registration, please follow the instructions below.
Our online registration requires approval by a Parent or a Legal Guardian by typing their name in the text box at the end of the online registration page. Registering online gives you the option of paying for a camp with a credit card through Stripe. CLICK HERE to view camp rates and additional information. If you choose to pay by check, please make checks payable to National Kicking Service and mail your payment to:
Gene Muriaty
National Kicking Service
P.O. Box 135
Marshfield Hills, MA 02051
"I have had the opportunity to work and train with NKS Director Gene Muriaty. He is absolutely one of the most knowledgeable and passionate place kicking and punting instructors in the USA!"

– Brian Hansen, former NFL All Pro punter
"Jim Power brings his years of professional experience to help young kickers improve their ability. I recommend attending his camp."

– John Robinson, former coach of Southern Cal and NFL Rams on NKS West Coast Director, Jim Power
"Gene Muriaty is an exceptional kicking and punting coach. I highly recommend him and his program to anyone interested in improving their skill."

– Mike Horan, former NFL All Pro punter on Gene Muriaty, NKS Director
"Jim Power has the ability to translate his kicking experience into the teaching of mechanics for young kickers. He understands how to avoid the flaws and pitfalls that prevent a kicker from being able to take his game from level to level to develop to maximum potential."

– Steve Ortmayer, long time NFL special teams coach on NKS West Coast Director Jim Power