Camp Check-in Location
Ward Hall
** With the exception of check-in and closing times, the exact schedule may vary from camp to camp. The NKS Staff will inform all camp participants of any changes.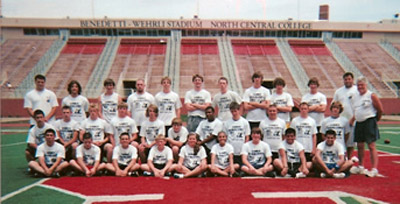 North Central College is located in the heart of Historic Naperville, Illinois, rated as one of the nation's "Best Places to Live" by Money Magazine, and only 28 miles from Chicago. North Central College's beautiful 65 acre campus offers 12 residence halls, three dining halls, and 41 total buildings. The athletic facilities are all first rate with the artificial turf Benedetti-Wehrli Stadium serving as home for the highly successful North Central College Cardinals football team.
Naperville anchors the research and development corridor along I-88, near Argonne National Laboratory on the east and Fermi National Accelerator Laboratory on the west.
It is a 30 minute ride on the Metra train from downtown Chicago.
A daily Amtrak train stops in Naperville.
Chicago's O'Hare International Airport is 27 miles from campus
Midway Airport is 30 miles.
DISTANCES TO…
North Central College
30 North Brainard
Naperville, Illinois 60540
FROM…
Chicago, Illinois… 28 miles
Bloomington, Illinois… 112 miles
Champaign, Illinois… 146 miles
Joliet, Illinois… 20 miles
Kankakee, Illinois… 71 miles
Rockford, Illinois… 80 miles
Springfield, Illinois… 180 miles
Waukegan, Illinois… 55 miles
Fort Wayne, Indiana… 187 miles
Gary, Indiana… 58 miles
Indianapolis, Indiana… 205 miles
South Bend, Indiana… 122 miles
Cedar Rapids, Iowa… 218 miles
Des Moines, Iowa… 304 miles
Green Bay, Wisconsin… 218 miles
Madison, Wisconsin… 145 miles
Milwaukee, Wisconsin… 101 miles
Kalamazoo, Michigan… 172 miles
Grand Rapids, Michigan… 203 miles
Lansing, Michigan… 243 miles
CHICAGO SPORTS
Chicago Cubs
Chicago White Sox
Chicago Bears Training Camp
Chicago Fire
CHICAGO ATTRACTIONS
City of Chicago
Chicago Architecture Foundation
John Hancock Center
Sears Tower
Navy Pier
Shedd Aquarium
Choose Chicago
TimeOut Chicago
How do I register for camp?
You may call or email Coach Muriaty for a brochure/application or sign up online. For online registration, please follow the instructions below.
Our online registration requires approval by a Parent or a Legal Guardian by typing their name in the text box at the end of the online registration page. Registering online gives you the option of paying for a camp with a credit card through Stripe. CLICK HERE to view camp rates and additional information. If you choose to pay by check, please make checks payable to National Kicking Service and mail your payment to:
Gene Muriaty
National Kicking Service
P.O. Box 135
Marshfield Hills, MA 02051
"I have had the opportunity to work and train with NKS Director Gene Muriaty. He is absolutely one of the most knowledgeable and passionate place kicking and punting instructors in the USA!"

– Brian Hansen, former NFL All Pro punter
"Jim Power brings his years of professional experience to help young kickers improve their ability. I recommend attending his camp."

– John Robinson, former coach of Southern Cal and NFL Rams on NKS West Coast Director, Jim Power
"Gene Muriaty is an exceptional kicking and punting coach. I highly recommend him and his program to anyone interested in improving their skill."

– Mike Horan, former NFL All Pro punter on Gene Muriaty, NKS Director
"Jim Power has the ability to translate his kicking experience into the teaching of mechanics for young kickers. He understands how to avoid the flaws and pitfalls that prevent a kicker from being able to take his game from level to level to develop to maximum potential."

– Steve Ortmayer, long time NFL special teams coach on NKS West Coast Director Jim Power