BALTIMORE, MARYLAND/WASHINGTON, DC/PENNSYLVANIA
Kicking Camp / Punting Camp / Long Snapping Camp
REGISTER FOR CAMP
Dates
Open, 2023
July 14th – 16th
(Fri – Sun)
Camp Check-in Location
Gill Gymnasium
** With the exception of check-in and closing times, the exact schedule may vary from camp to camp. The NKS Staff will inform all camp participants of any changes.
2023 BALTIMORE, MARYLAND/WASHINGTON, DC/PENNSYLVANIA SUMMER CAMP INFORMATION
↓ Information below or CLICK HERE TO REGISTER.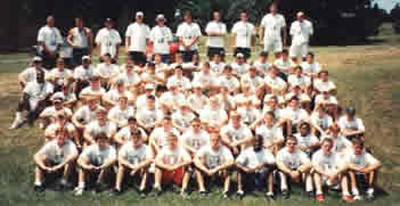 Centrally located and easily accessible to the Mid-Atlantic Region, McDaniel College, in historic Westminster, Maryland is only 30 miles from Baltimore, 66 miles from Washington D.C., and 60 miles from Harrisburg, Pennsylvania. The beautiful 160 acre campus with its traditional buildings, classic charm, and on campus golf course, is surrounded by forests and fields. The hilltop campus offers breathtaking views of the Blue Ridge Mountains. McDaniel College is an ideal site for a football kicking camp. The Baltimore Ravens conducted their summer camp there until 2010 when they built their own facility just down the road in Owings Mills, Maryland. The NKS camp utilizes the same facilities the Ravens enjoyed including the artificial turf stadium which was installed by the Ravens.
While McDaniel College competes (quite successfully) at the Division 3 level, the athletic facilities are those of a much higher intercollegiate level of competition. The overnight accommodations for the NKS camp are more of a luxury apartment than a typical college dormitory. The camp is housed in the "North Village Apartments" which provide campers modern suites with a complete kitchen and living room. It's a short walk to the field, dining hall, and meeting rooms.
McDaniel College was founded in 1867 and known as "Western Maryland College" until 2002. It is a private liberal arts college with 60 undergraduate and more than 20 graduate programs. It is profiled as one of the 40 colleges in the book, "Colleges That Changed People's Lives". In 2011, The Weather Channel ranked McDaniel College 6th in the USA as "Best Tailgating Colleges" due to the ability for fans to park their cars practically on the football field and actually grill and drink, a tradition that dates back to the 1920's. McDaniel College annually ranks in the "Top Five" for average Division 3 attendance.
Westminster, Maryland/Washington D.C. Capitol Area
Whether you're staying in the Westminster area, venture off to the nation's capital, take in a Baltimore Orioles game, or visit the nearby Blue Ridge Mountains, this special region of the USA offers a multitude of activities for all. And don't forget Gettysburg National Park. While the park is visited by thousands yearly for its obvious historical significance, people come to the park for the sheer beauty of the rolling hills and sweeping vistas. Here is a short list of area attractions.
ATTRACTIONS
Local
Blue Ridge Mountains
Gettysburg National Park
The Union Mills Homestead
Carroll County Farm Meadows
Local Westminster Farms
AREA
Washington D.C.
Smithsonian
National Monuments and Memorials
Tour the 3 Houses of Government
Walk through Georgetown
Explore Mount Vernon
Walking Tours of Old Town Alexandria
D.C. AREA SPORTS
Baltimore Ravens Training Complex, Owings Mills, Maryland – Check out the tours and dates for mini-camps and summer training camp.
Washington Redskins Training Center, Richmond, Virginia – Check out the tours and dates for mini-camps and summer training camp.
MLB Baltimore Orioles
MLB Washington Nationals
DISTANCES TO…
McDaniel College 2 College Hill Hill Westminster, Maryland 27514
FROM…
Baltimore… 30 miles Washington, D.C…. 66 miles Taneytown, Maryland… 12 miles Frederick, Maryland… 33 miles Gaithersburg, Maryland… 36 miles Annapolis, Maryland… 58 miles Hagerstown, Maryland… 58 miles Cambridge, Maryland… 106 miles Lexington Park, Maryland… 116 miles Cumberland, Maryland… 122 miles Salisbury, Maryland… 137 miles Arlington, Virginia… 62 miles Fairfax, Virginia… 64 miles Winchester, Virginia… 82 miles Fredericksburg, Virginia… 106 miles Richmond, Virginia… 161 miles York, Pennsylvania… 36 miles Carlisle, Pennsylvania… 52 miles Shippensburg, Pennsylvania… 53 miles Harrisburg, Pennsylvania… 60 miles Lancaster, Pennsylvania… 61 miles Allentown, Pennsylvania… 125 miles Williamsport, Pennsylvania… 144 miles Pittsburgh, Pennsylvania… 231 miles Wilmington, Delaware… 99 miles Dover, Delaware… 113 miles
How do I register for camp?
You may call or email Coach Muriaty for a brochure/application or sign up online. For online registration, please follow the instructions below.
Our online registration requires approval by a Parent or a Legal Guardian by typing their name in the text box at the end of the online registration page. Registering online gives you the option of paying for a camp with a credit card through Stripe. CLICK HERE to view camp rates and additional information. If you choose to pay by check, please make checks payable to National Kicking Service and mail your payment to:
Gene Muriaty
National Kicking Service
P.O. Box 135
Marshfield Hills, MA 02051
– – – – – – – –
For those of you who haven't attended an NKS Summer Camp before……expect the tremendous advantage of an authentic pro-type training camp environment. The three days and two nights of camp enable the players to fully assimilate every facet of their skill with seven full field sessions, extra help sessions, lots of individual help (1:6 or less coach to player ratio) meticulous video analysis sessions, sports biomechanics classroom instruction, meetings on all physical and mental training aspects specifically for each position, optional college recruitment meeting, and more. The experience lends itself to more interaction with coaches and players alike and a special camaraderie within the special teams positions.
Who Should Attend?
The NKS Summer Camps are appropriate for ages 10 years and up. Players are in groups according to their age/class. No one ever feels out of place at an NKS camp. We create an environment where all participants feel comfortable from the moment they check in.
NKS provides players with an opportunity of success focusing on mind, body, and strength
Three days and two nights
1:6 or less coach to player ratio
Recommended by NFL players and coaches
Nationally ranked program for the past 30 years
Multiple video analysis sessions
College ExposureAccess to coaches, including Coach Gene, year round
Exposure to NKS's groundbreaking biomechanics training program
Great training tables….all you can eat!
Instructional & training written materials
Lots of individual help
Camp tee shirt
Guaranteed Fun: More and more we hear professional athletes speak of having fun with their individual sports. National Kicking Service has known that for a long time. Enjoyment leads to enthusiasm….which leads to quality practice and enhanced performance in game situations. The camps are a blast
"I have had the opportunity to work and train with NKS Director Gene Muriaty. He is absolutely one of the most knowledgeable and passionate place kicking and punting instructors in the USA!"

– Brian Hansen, former NFL All Pro punter
"Jim Power brings his years of professional experience to help young kickers improve their ability. I recommend attending his camp."

– John Robinson, former coach of Southern Cal and NFL Rams on NKS West Coast Director, Jim Power
"Gene Muriaty is an exceptional kicking and punting coach. I highly recommend him and his program to anyone interested in improving their skill."

– Mike Horan, former NFL All Pro punter on Gene Muriaty, NKS Director
"Jim Power has the ability to translate his kicking experience into the teaching of mechanics for young kickers. He understands how to avoid the flaws and pitfalls that prevent a kicker from being able to take his game from level to level to develop to maximum potential."

– Steve Ortmayer, long time NFL special teams coach on NKS West Coast Director Jim Power