Dates
Open, 2023
July 7th – 9th
(Fri – Sun)
Academy Check-in Location
Gymnasium Lobby
** With the exception of check-in and closing times, the exact schedule may vary from camp to camp. The NKS Staff will inform all Academy participants of any changes.
2023 New England Kicking, Punting, & Long Snapping Academy,
Massachusetts Maritime Academy
COVID Update
*Note The New England MMA Academy requires all Academy participants to bring updated proof of Covid vaccination. Also, please bring your mask in case they are needed – THIS IS ONLY FOR THE New England MMA Academy

* Previous promotions/advertising as a "camp" was incorrect and the program is not licensed by the Local Board of Health, nor does the program meet the requirements of a recreational camp for children pursuant to 105 CMR 430.000.
Gene Muriaty
NKS Director
nks@kickpunt.com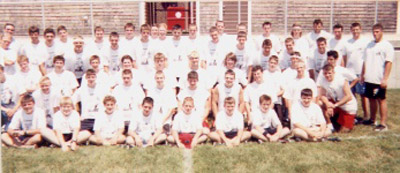 The New England Kicking, Punting, & Long Snapping Academy is three days and two nights of state of the art instruction with seven full field sessions, extra help sessions, a ton of individual attention (staff to participant ratio never exceeds 1:6 and is usually less), at least two extensive video analysis meetings, sports biomechanics classroom work, meetings on all physical and mental training aspects specifically for kickers, punters, and long snappers, optional college recruitment process meeting for parents and players, and more. Another thing… The Academy is a blast. If you're an upperclassman and looking for college exposure, there isn't a better place to be. NKS's record for helping place specialists out of our summer programs alone is impressive, not to mention our College Exposure Academy in Orlando every January.
Located on southern tip of the scenic Cape Cod Canal in Buzzards Bay, Massachusetts. Only an hour's drive from Boston and Providence, Massachusetts Maritime Academy's spectacular setting and first class athletic complex with its two new artificial turf fields, Olympic sized swimming pool, two fully equipped rooms and modern field house make it the perfect site for the NKS New England Academy.
Participants will enjoy the intimate nature of the campus with the fields, residence halls, classrooms, and dining hall all within short walking distance. Great all you can eat meals are provided by Chartwell's Dining Service in the MMA Dining Hall with breathtaking views of the canal and Buzzards Bay through its large glass windows. Players will see large ocean going vessels such as cruise ships and military craft pass through the Cape Cod Canal. The Cape Cod Railroad Bridge is the second largest lift bridge in the USA and only several hundred yards from the football fields. During the summer, the school's training ship, the 540 foot USTS Kennedy is in dock and a sight to see. Fishing is popular on the canal side of campus while swimming at the beach is enjoyed on the bay.
Cape Cod
Cape Cod, Massachusetts is the world renowned destination for summer vacations with its beaches, historical attractions, quaint New England villages, and leisurely pace of life. From the craft fairs and seafood festivals to secluded bike trails, train rides, restaurants, the Cape Cod Baseball League, and shopping of all kinds, Cape Cod has something to interest everyone…..and it begins only an hour from Boston. It's easy to see why every year families combine the NKS Kicking, Punting & Long Snapping Academy at Massachusetts Maritime Academy with a stay on "The Cape". Here are just a few of the attractions to be experienced.
Cape Cod National Seashore: Famous sand dunes and vast expanse of beach.
Provincetown: Charming New England village at the tip of Cape Cod known for specialty shops and dining.
Cape Cod Canal Bike Trails: Bike the entire length (on both sides) of one of the engineering marvels of the world.
Ferry to Martha's Vineyard or Nantucket from Hyannis.
Route 6A (The Old King's Highway): Take a ride you'll always remember that winds through some of the oldest villages in America.
Beaches: One of the best rated is Nauset Beach in Orleans.
Whale watching cruises.
"Off Cape"
Plymouth Rock: See where the Pilgrims first step foot in the New World.
Plimouth Plantation: A living museum of the Pilgrims first settlement.
Where to Stay
There are major hotel chains throughout Cape Cod as well as many quaint smaller family run accommodations. There are a good many of these smaller motels along Route 6 nearby Massachusetts Maritime Academy. A good place to start is at www.capecodchamberofcommerce.org.
DISTANCES TO…
Boston… 59 miles
Providence… 52 miles
Taunton, Massachusetts… 29 miles
Marshfield, Massachusetts… 31 miles
Fall River, Massachusetts… 35 miles
Attleboro, Massachusetts… 42 miles
Weymouth, Massachusetts… 46 miles
Norwood, Massachusetts… 54 miles
Natick, Massachusetts… 62 miles
Worcester, Massachusetts… 80 miles
Lowell, Massachusetts… 84 miles
Fitchburg, Massachusetts… 94 miles
Springfield, Massachusetts… 127 miles
Newport, Rhode Island… 52 miles
Woonsocket, Rhode Island… 56 miles
Warwick, Rhode Island… 62 miles
Willimantic, Connecticut… 99 miles
Norwich, Connecticut… 99 miles
New London, Connecticut… 106 miles
Windsor Locks, Connecticut… 141 miles
West Hartford, Connecticut… 143 miles
New Haven, Connecticut… 152 miles
Manchester, New Hampshire… 111 miles
Portsmouth, New Hampshire… 115 miles
Keene, New Hampshire… 133 miles
Laconia, New Hampshire… 152 miles
Portland, Maine… 165 miles
Augusta, Maine… 219 miles
Brattleboro, Vermont… 151 miles
Rutland, Vermont… 229 miles
Montpelier, Vermont… 238 miles
Albany, New York… 205 miles
How do I register for academy?
You may call or email Coach Muriaty for a brochure/application or sign up online. For online registration, please follow the instructions below.
Our online registration requires approval by a Parent or a Legal Guardian by typing their name in the text box at the end of the online registration page. Registering online gives you the option of paying for a camp with a credit card through Stripe. CLICK HERE to view camp rates and additional information. If you choose to pay by check, please make checks payable to National Kicking Service and mail your payment to:
Gene Muriaty
National Kicking Service
P.O. Box 135
Marshfield Hills, MA 02051
"I have had the opportunity to work and train with NKS Director Gene Muriaty. He is absolutely one of the most knowledgeable and passionate place kicking and punting instructors in the USA!"

– Brian Hansen, former NFL All Pro punter
"Jim Power brings his years of professional experience to help young kickers improve their ability. I recommend attending his camp."

– John Robinson, former coach of Southern Cal and NFL Rams on NKS West Coast Director, Jim Power
"Gene Muriaty is an exceptional kicking and punting coach. I highly recommend him and his program to anyone interested in improving their skill."

– Mike Horan, former NFL All Pro punter on Gene Muriaty, NKS Director
"Jim Power has the ability to translate his kicking experience into the teaching of mechanics for young kickers. He understands how to avoid the flaws and pitfalls that prevent a kicker from being able to take his game from level to level to develop to maximum potential."

– Steve Ortmayer, long time NFL special teams coach on NKS West Coast Director Jim Power