Camp Check-in Location
Check-in will be in Belk Residence Hall. From Selwyn Avenue, turn onto Radcliffe Avenue. Look for the NKS signs by the clock tower.
** With the exception of check-in and closing times, the exact schedule may vary from camp to camp. The NKS Staff will inform all camp participants of any changes.
2021 NORTH CAROLINA/SOUTH CAROLINA SUMMER CAMP INFORMATION
COVID Update

↓ Information below or CLICK HERE TO REGISTER.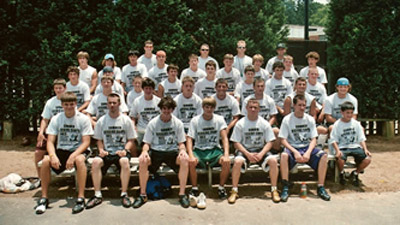 Great location. Great campus. Great facilities. Located in the heart of the attractive Myers Park area of Charlotte, one of the city's prestige addresses with fine homes, tree lines streets, and curving drives. The historic Queens University campus with its classical exteriors and Georgian architecture is truly inspiring. The park like design with an abundance of trees is welcoming and fosters a sense of community. The athletic facilities are all first rate from the newly completed Levine Center for Wellness and Recreation, to the Queens Athletic Center, to the well maintained athletic fields all within short walking distance to the dining and residence halls.
Centrally located for both North Carolina and South Carolina
Queens University of Charlotte is easily accessible and nearby Interstates 85 and 77
Charlotte Douglas International Airport is an easy 11 mile drive away
Charlotte, North Carolina
The City of Charlotte, North Carolina and surrounding area offer an abundance of recreational and cultural activities throughout the year. Because of Charlotte's favorable climate, the many outdoor activities may be enjoyed most of the year. Here is a list with just some of the area attractions.
DISTANCES TO…
Queens University of Charlotte
1900 Selwyn Avenue
Charlotte, North Carolina 28274
FROM…
Gastonia, North Carolina… 25 miles
Albemarle, North Carolina… 41 miles
Salisbury, North Carolina… 46 miles
Hickory, North Carolina… 61 miles
Greensboro, North Carolina… 96 miles
Asheville, North Carolina… 127 miles
Fayetteville, North Carolina… 132 miles
Raleigh, North Carolina… 170 miles
Greenville, North Carolina… 253 miles
Rock Hill, South Carolina… 26 miles
Spartanburg, South Carolina… 76 miles
Florence, South Carolina… 102 miles
Columbia, South Carolina… 92 miles
Charleston, South Carolina… 208 miles
Knoxville, Tennessee… 232 miles
Richmond, Virginia… 295 miles
CHARLOTTE SPORTS
NFL Charlotte Panthers – training camp at Wofford College, Spartanburg, South Carolina
NBA Charlotte Bobcats
Charlotte Motor Speedway, Concord, North Carolina
CHARLOTTE ATTRACTIONS
Hendrick Motor Sports Complex – a major NASCAR Museum
U.S. National Whitewater Center
The Billy Graham Library
Discovery Place- amazing world of science
Freedom Park
Carowinds – theme/waterpark
Carolinas Aviation Museum
McDowell Nature Center and Preserve – a natural wildlife area
Lake Norman
How do I register for camp?
You may call or email Coach Muriaty for a brochure/application or sign up online. For online registration, please follow the instructions below.
Our online registration requires approval by a Parent or a Legal Guardian by typing their name in the text box at the end of the online registration page. Registering online gives you the option of paying for a camp with a credit card through Stripe. CLICK HERE to view camp rates and additional information. If you choose to pay by check, please make checks payable to National Kicking Service and mail your payment to:
Gene Muriaty
National Kicking Service
P.O. Box 135
Marshfield Hills, MA 02051
"I have had the opportunity to work and train with NKS Director Gene Muriaty. He is absolutely one of the most knowledgeable and passionate place kicking and punting instructors in the USA!"

– Brian Hansen, former NFL All Pro punter
"Jim Power brings his years of professional experience to help young kickers improve their ability. I recommend attending his camp."

– John Robinson, former coach of Southern Cal and NFL Rams on NKS West Coast Director, Jim Power
"Gene Muriaty is an exceptional kicking and punting coach. I highly recommend him and his program to anyone interested in improving their skill."

– Mike Horan, former NFL All Pro punter on Gene Muriaty, NKS Director
"Jim Power has the ability to translate his kicking experience into the teaching of mechanics for young kickers. He understands how to avoid the flaws and pitfalls that prevent a kicker from being able to take his game from level to level to develop to maximum potential."

– Steve Ortmayer, long time NFL special teams coach on NKS West Coast Director Jim Power